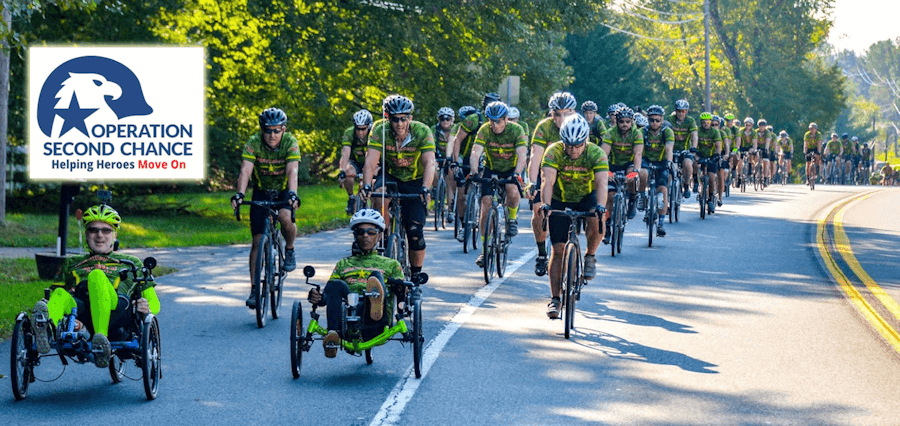 Smokey Glen Farm Partners with Operation Second Chance to Support Veterans and their Families with a 3-Day, Multi-State Bike Ride
The 66 year old family-owned farm continues its support of the regional and military communities, hosting participants at the ride's final stop October 6, 2019.
Gaithersburg, MD – October 1, 2019 – Smokey Glen Farm, the family-owned event space that has set the standard for corporate events across the DC region since 1953, announces today that it is continuing its support of Operation Second Chance (OSC)'s annual bike ride fundraiser in cooperation with Our Ride Allegheny. This community event benefits wounded Veterans and their families, as well as the larger regional community. Smokey Glen Farm will provide its venue and catering at-cost to ride participants at the conclusion of the 3-day, multi-state event on Sunday, October 6, 2019.
Since its founding in 2004, OSC has continued to make significant strides in the support and healing of Veterans and their families, under the motto, "Helping Heroes Move On." OSC's mission stems from a personal commitment to patriotism and pride from its CEO and Founder, Cindy McGrew, who has four older brothers who have served in various branches of the military.
"OSC's work continues to be of utmost importance to me," Cindy McGrew said. "I remember how my brothers were treated when they returned home from Vietnam and I vowed to do all I could to serve and support heroes in the future. We are proud to have the support of Smokey Glen Farm over the last several years to make this year's ride more successful than ever before."
Smokey Glen Farm has been a longtime supporter and champion for OSC as a key part of its steadfast commitment to supporting the community and key groups within it.
The annual ride, in cooperation with Our Ride Allegheny, begins in Pittsburgh, PA on October 3, 2019 and concludes at Smokey Glen Farm in Gaithersburg, MD on Sunday, October 6. Other key facts about the ride include:
More than 130 Riders;
4 full riding days;
23 towns passed on the route, from Pittsburgh, PA to Gaithersburg, MD – spanning the Allegheny Passage and C&O Towpath;
A community event that draws more than 450 attendees pledging their support; and
More than $400,000 raised currently to support wounded and ill Veterans and their families.
"We are proud to stand with OSC and our country's military and Veteran groups as we support them this weekend," CEO of Smokey Glen Farm, Jim Sweet said. "Since our founding more than 66 years ago, we have remained committed to giving back as a patron of our community to help those in need. For the last 13 years, we have been honored to host the OSC riders and their families at our venue, and give them the family-friendly experience we are known for in a memorable event as they raise funds to continue their valuable work."
For more information OSC's upcoming ride, please visit http://rideallegheny.org/.
ABOUT SMOKEY GLEN FARM
Established in 1953, Smokey Glen Farm is a family owned and operated event space that has set the standard for excellence for high performance and service across the Baltimore, Washington, DC, and Virginia areas. With a variety of event spaces and options, Smokey Glen Farm has the ability to accommodate different sizes of guests and is open from March through December for an experience that offers relaxing country views, fun, award-winning food, and a full-service approach. For more information, please visit www.smokeyglenfarm.com.
ABOUT OPERATION SECOND CHANCE
Operation Second Chance (OSC) is a designated 501(c)(3) organization headquartered in Baltimore, Maryland dedicated to promoting public awareness of the many sacrifices made by our Armed Forces. Now in its 14th year, OSC continues to serve wounded, injured, and ill Veterans across the country and generate funds to support its work through annual programs, such as Our Ride Allegheny, which has raised more than $1 million since 2005. For more information about OSC, please visit www.operationsecondchance.org.